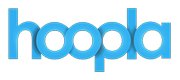 Quarterly Picks & Resources
Each quarter, hoopla releases a new Spotlight Selection title, along with materials including a discussion guide and exclusive author interview to help you get the most out of your book club. They also curate an additional eight recommended titles to meet the diverse interests of any group.
No Holds. No Waiting. No Kidding!
With every title on hoopla available instantly, with no holds, no waiting, and no late fees, book clubs of all sizes will love being able to access their title on hoopla all at the same time. Everyone can start reading or listening right away, simultaneously, with their choice of eBook or audiobook!
Graphic Novel Book Club