Current events, magazines, newspapers
Canadian Major Dailies
Get full-text access to a variety of Canadian Newspapers, including Ontario publications like The Sudbury Star from 1999, The Toronto Star, The Globe and Mail, and the National Post. It also contains publications from outside of Ontario including the Calgary Herald, the Edmonton Journal, the Telegraph Journal from New Brunswick, and the Times Colonist from British Columbia.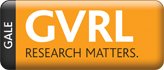 Communication and Media eBooks
Part of the Gale Virtual Reference Library of Ebooks, a database of encyclopedias, almanacs, and specialized reference sources for multidisciplinary research. Each collection offers a description and cover photo, illustration list, eBook Indexes, eBook table of contents, in-line graphics and tables, and hyperlinks to related content within an eBook.
Globe and Mail Canada's Heritage from 1844
The digitized full-image version of the Globe and Mail Newspaper since 1844.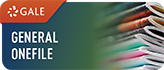 General OneFile
Gale General OneFile includes content from leading magazines, newspapers and scholarly journals. Find articles on an extensive range of subject areas including business & economics, health & medicine, literature, drama, political science & diplomatic studies, science & technology, biology, chemistry.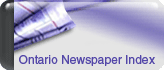 Ontario Newspaper Index
Community and historical newspapers of Ontario: Acton Free Press, British Whig, Canadian Illustrated News, Essex Free Press, Georgetown Herald, Kingston Chronicle, Kingston Gazette, Marine Record, Provincial Freeman, Stouffville Sun-Tribune, Voice of the Fugitive, and more.