Learn. Share. Create.
The Makerspace provides access to a wide range of tools and resources for making, DIY,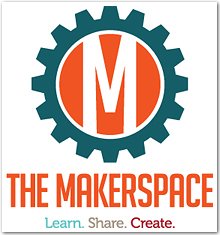 and innovation. The idea behind makerspaces is simple: they are places where people come together to learn about technology, crafts and other kinds of making; to share knowledge and skills with others; and to create things by applying this knowledge.
Before you visit
All customers 13 and over must fill out a print Makerspace agreement before entering the Makerspace.
Tools and equipment
3d printers
Flashforge finder
Flashforge Dreamer
PLA filament in a variety of colours.
3d printing is available by request. Use the 3D Printing at GSPL form to submit a request and book a consultation.

Sewing
Janome Sewing Machines (model SUV 1108)
Button Makers
Button press with materials to make 1" pinbacks
Button press with materials to make 1.5" magnets
Crafting Tools and Supplies
Acrylic paints and brushes
Scissors, cutting mat and assorted paper
Crafting foam, knives and hot glue
Woodworking and Hand tools
Mitre boxes and handsaws
Chisels
Wood glue
Power drills
Hand tools
Soldering
Soldering stations
Fume extractor
Helping hands
Computer workstations with Creative Software
Arduino IDE
Python IDE
Scratch
GIMP
Inkscape
Shotcut
Flashprint
Coming Soon: Recording Studio, Arduino, Vinyl Cutter and Heat Press
CreativeBug
Don't know where to start? Creativebug has thousands of video workshops that will guide you through projects you can work through using the tools and equipment in the makerspace.

What will you make today?
Contact information