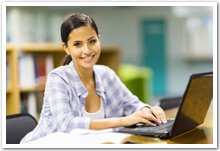 Use a Chromebook wherever there is a Wi-Fi connection, in the Library, at home, or on the go!
Lending guidelines
To check out a Chromebook, you must read, understand, and sign the Technology Waiver and Lending Agreement.
Return Chromebooks (and all borrowed accessories) to a staff member directly, not placed in the drop box, or left on the counter.
Chromebooks must be picked up within 3 days of receiving a hold pickup notification.
Who can borrow
Use a Greater Sudbury Public Library card (Passport) in good standing to borrow a Chromebook.
Minors (patrons under 18) can use their library card to check out a Chromebook if their Guardian has signed an agreement giving that minor permission.
Loan Period and Late Fees

| Item | Loan Period | Renewals | Holds | Late Fees | Replacement Cost |
| --- | --- | --- | --- | --- | --- |
| Chromebook | 7 Days | Yes, if there are no holds | Yes | $0 / day* | $473 per kit |
*The internet service will be disabled on overdue devices.
Borrow a Chromebook in the library
Borrow a Chromebook to use in the Library for up to 2 hours. These are available at each library location on a first-come, first-served basis. Mice, external DVD drives, and power supplies are also available for loan.
To prevent loss or theft, never leave a Chromebook unattended.