How to Use a Wifi Hotspot
(Novatel Wireless™ MiFi)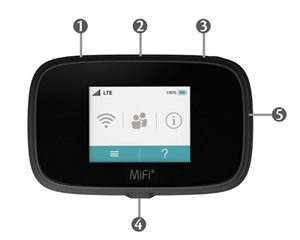 SIM card slot.
Universal Charging Port (USB A): Use to charge an additional wireless device.
Power Button.
QuickCharge port (USB C): Use to connect the QuickCharge charger.
Color touchscreen: Displays device status, data usage, and number of users connected.
Get started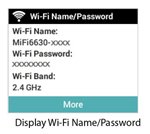 Plug in your wireless hotspot to ensure a full battery.
Press and hold the Power button for 2 seconds.
On the MiFi homescreen, select Wi-Fi Name/Password.
Open the Wi-Fi application or controls on the device you want to connect to the MiFi.
Select the MiFi's name from the list of available networks.
Enter the MiFi's password and connect.
How to change language to French
Select Menu.
Select Settings.
Select Language.
Press on the grey circle beside the language you would like. It will turn green.