Pickleball equipment lending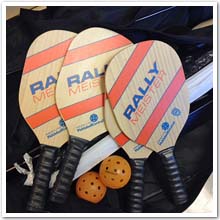 The South End Library, Levack / Onaping Library and Valley East Library and Citizen Service Centre now have pickleball equipment available to lend to the public.
What It Is
Adults are invited to use their library card to check out pickleball equipment from the library to try out this sport on a local tennis court. If you have not played before, the kit includes basic instruction about how to play the game.
What You Get
You will check out a bag that includes four (4) paddles, two (2) balls, and a portable net system. There are instructions with the net to explain how it is put together.
Pickleball equipment is checked out on a first-come, first-served basis, and may not be reserved in advance. Find pickleball equipment in our catalogue!
What You Need to Do
The portable net system you are provided can be placed on existing city tennis courts. LoEllen tennis courts have new pickleball lines that specific to this game, however any existing tennis court can be used, and they are available on a first-come, first-serve basis.
When You are Done
You will need to return the equipment to the branch where you picked it up (either South End Library, Levack / Onaping Library, or Valley East Library & Citizen Service Centre).